Had some crazy games with Natas over the last hour. Playing Hotwire (The game where you hold the vehicle).
We had a game where Our team was losing. Enemy had 2 of 3 vehicles. We waited by the 1 vehicle our team held, assuming the dude driving was going to get blown up. He stayed alive for a solid few minutes. We got impatient. Hopped in a sedan, Natas took out a RPG from the trunk first (Vehicle upgrade you can buy). I drove us up to both enemy vehicles. Blew em both up. Natas had two 4 quad feeds. Then we went and took one of the Letter vehicles (Think it was C). Drove that for the rest of the game. Topped the lobby by a mile, and pulled out a win.
Here is a screenshot of Natas' scoreboard: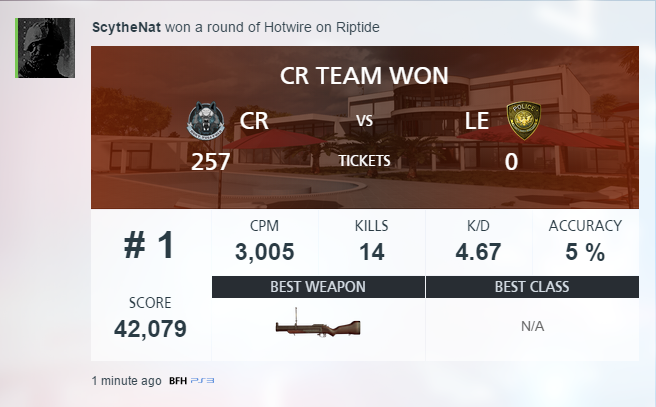 42k score. 4KD. Check out that CPM (Cash per Minute). He averaged $3,005 PER MINUTE that game lol. Beastmode.