on Thu Jan 10, 2013 4:19 pm
#30034
So I watched a video only because they asked for feedback and I have to give to get. But don't bother watching it it sucked. Something that struck me as odd though is the end score take a look at the top two on the winning side. I admit I really do not know much about the scoring in this game or how points get awarded past killing people and capturing stuff.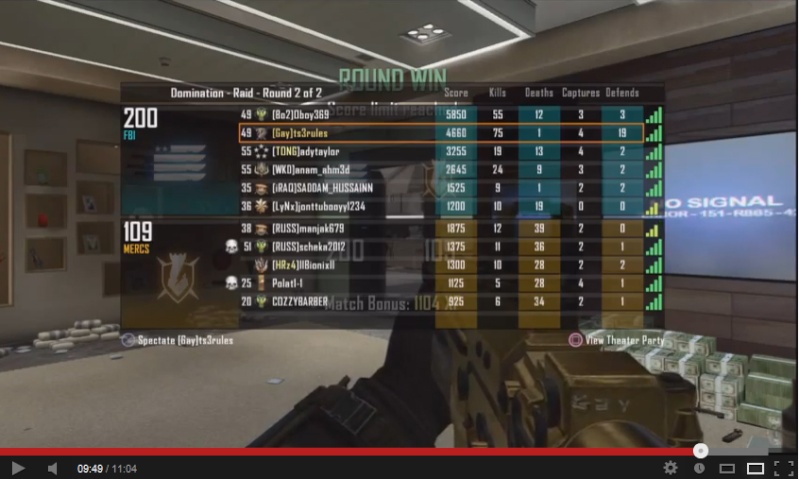 on Thu Jan 10, 2013 4:28 pm
#30036
Syndrome

Location

:

Ohio, USA



Assist points.
Guy was probably running UAV, CUAV or VSAT. Guardian gives you assist points as well. On top of the actual assists.
on Thu Jan 10, 2013 4:38 pm
#30039
What is confusing me is the final scores of the top two. The second guy has more kills less deaths more assists and more captures but his score is lower than the top guy.
on Thu Jan 10, 2013 5:39 pm
#30050
Alpha

I like Pink

Depends on assist, not shown and stuff destroyed. You can get massive points running around hacking and destroying equipment/guardians/sentry. +50 for tac nade assist

Shield assist +25 for damage and +50 anyone killed while shooting at you. Points come from all over the game, not just kill/cap.

Maybe 1st player shot down 5 UAVs and a chopper?
on Thu Jan 10, 2013 6:09 pm
#30062
Oh okay thanks for explaining that.

What about weapons do you get points for using different attachments and/or leveling a weapon? I pretty much have been using one or two weapons since I started playing. Should I be using other weapons?
on Thu Jan 10, 2013 6:16 pm
#30066
lilaclegend

Member


Location

:

not where i want to be



i don't think you get in game points for attachments and weapon achievements but they go to your overall score.

the score you see at the end of the game is for whatever you did during that game.. kills/capping/defending/assist/destroying.
on Fri Jan 11, 2013 5:08 am
#30141
goh13

Member

Have you tried using an EMP nade? Easily gets me 1000 + my total score. 4000 points in TDM due to snipers throwing tons of traps

on Fri Jan 11, 2013 7:17 am
#30144
I used them last nite instead of black hat you guys were right it is very versatile. I like the way it takes out sentries and guardians in one shot. Real nice radius and the points keep accruing even if you die.

#0
Create an account or log in to leave a reply
You need to be a member in order to leave a reply.
Log in
Already have an account? No problem, log in here.
Log in
---
Permissions in this forum:
You
cannot
reply to topics in this forum